Pitching to Investors,
Just got SMARTER!
​A startup ecosystem which validates ideas through AI generated personalized training modules and connects investors with founders through a gate keeping investor matching process.
Apply to be a part of the waitlist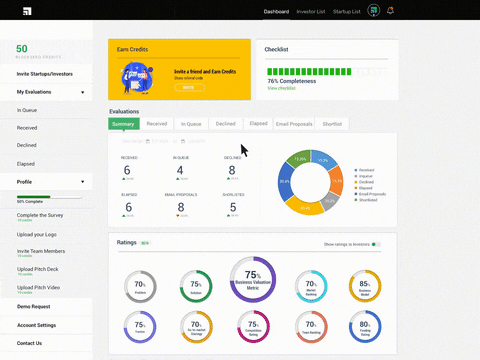 Get quantified business evaluations.
Auto-match with relevant Investors!
Match with relevant Investors and understand where you stand out and what you need to work on to become that attractive investment.
Update your followers, users and investors.
Keep them engaged with smart reporting tools!
Integrate Calendar, Accounting, Project Management, Communication and CRM tools to create and send updates to keep investors, who are anonymously or publicly following you, engaged.
Don't know where the tunnel ends? Let us be that light.
Funding checklists and Investor reviews among many other things allow us to help you gauge how fundable are you on a point scale. Let us tell you, privately.
Subscribe to pitch.
Pay to unlock reviews!
While we ensure that investors send a timely evaluation, we only charge you when you are reviewed.
Accelerate your funding curve.
Play some educational games!
Who says seeking funding can't be fun? Learning modules and educational games are personalized for you based on your profile and investor feedback.
Featured Investors
Blockseed For Accelerators
We respect and admire the diversity of local accelerators. However, we want to expand and automate your outreach!
Blockseed For Agencies
Help us grow by partnering with us and share some of your development, marketing, legal and financial expertise. In return, get priority and discounted access to clients.
Stakeholders